27m Aerial Fire Truck METEOR 
270 ATPI 
EN 1777 : 2010 + EN ISO 13849-1 + EN 1846 1-2-3
The compact dimensions of this multipurpose platform fire truck enable high maneuverability in narrow streets.
The 270 ATPI is equipped with a twin stage centrifugal pump proportioning extra high pressure foam and water.
The Apollo Rescue Cage 330Kg is a great addition to performance on the rescue scene to access difficult spots and extract victims in the safest way.
You will also benefit from great features like:  Mobile Seat with "Head Up" Control Station, Double computer assisted controls, Full redundancy of safety equipment or High Intensive "EHV " Electromagnetic Compatibility + "Linesafe".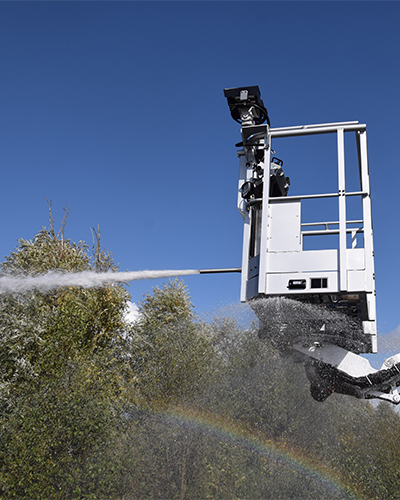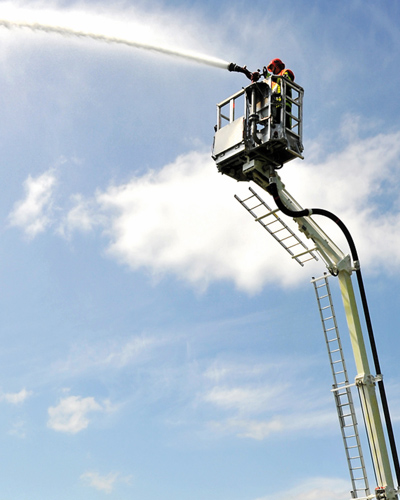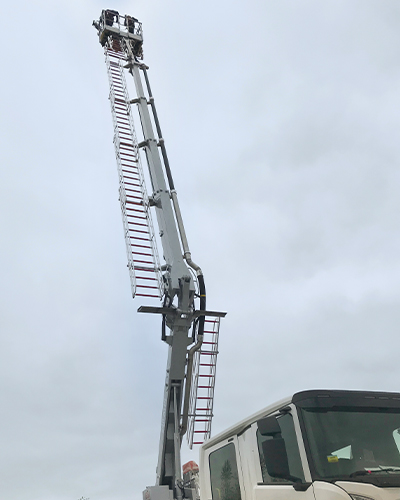 Share !
Performances :
Working Height: 27.00m
Rescue Height: 25.00m
Max. Outreach: 17m
Rescue Cage Load: 330kg
Possible types of vehicles :
Minimum G.V.W.: 19 Tons
For vehicle options, please contact us before ordering
Installation on lower tonnages, please contact us
Specifications :
Boom geometry 2+4+1
Stabilization H Type
Slope/Tipping 7° in all direction
Continuous rotation 360 °
No tail swing turret
Telescopic water way
Rescue cage: 2.00×1.15×1.13m
3 Access rescue cage (F+R+R )
Rescue cage rotation: 2 x 50°
Rescue Stretcher with 2 brackets
Monitor 3800L/min
Water curtain for rescue cage
CCS3 Monitoring system
Aluminum body work
45 km/h wind operation
Options – Minimum G.V.W 26T :
Strecher with 2-point Bearing
Breathing air Line
Thermic and color camera
IR obstacle recognition
Electrical line detection
Flowmeter
Hydraulic tools quick coupling in rescue cage
Options – G.V.W >26T :
Water pump: 4000 L/min
Water / Foam tank: 2000 L
CAFS – Compressed air Foam System
Around the pump foam system
Rescue Ladder
For more platform options, please contact us before ordering
Other request could be done and will be studied by EGI-KLUBB Group Design Office
For more platform options, please contact us before ordering
Other request could be done and will be studied by EGI-KLUBB Group Design Office