Aerial Platforms for Live Line Working
The best live line Aerial Platforms for working with ultimate bare hand method
In order to provide safety, effectiveness and freedom of movement during your live-line maintenance we have designed the most efficient hydraulic live line aerial platforms. Due to their unique and patented technologies, our series of live line aerial platforms, the chance to repair electrical wires, replacing insulators, dead end insulator strings retrofit, jumpers connection, connectors or lugs clamping in good conditions are guaranteed.
The E series of insulator aerial platforms provide you live working with ultimate bare hand method at 500 kV EHV transmission lines. With the E series telescopic articulated boom you'll reach working heights of up to 67m. Our live line aerial platforms designed for Distribution lines are fully compliant with IEC1057; thanks to our unique design of foam-filled insulated boom.
Melissa
2020-02-27T12:23:47+01:00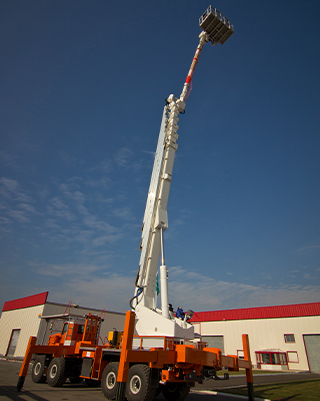 30m Aerial platform insulated E30P Our E30P Hydraulic Insulating Access Platforms takes advantage of unique EGI Type II foam filled technology: epoxyde-resin reinforced by glass fiber tube filled by high density polyurethane foam (closed particles) for live [...]
AERIAL PLATFORMS FOR ELECTRICAL DISTRIBUTION
The new range of insulated lifts for electrical distribution up to 46 kV
The KI series of hydraulic aerial platforms is designed for electrical distribution rating up to 46 kV. Why are they special? Mounted on vans or chassis these boom lifts are covered with insulating resin and fibre glass. If you choose the van range you can reach a working height of 12,5 metres to 14 metres. If you choose the chassis one, you will reach a working height of 12,50 metres to 18,20 metres.