LIVE LINE
INSULATOR WASHING 
EQUIPMENT 
IEEE-957 + IEC 31472 (HV)
IW 265
Rated voltage 500kV (phase-phase) high voltage networks
EGI has unique know-how that is recognized around the world for live line insulator washing equipment. Its products are used in areas difficult to access in Qatar, China or Chile for example to clean insulated high voltage lines.
"IW 2" LOW SERIES Combined Washing Equipment offer easy operator handling for washing all type of distribution grids up to 90 kV.
High capacity integral water tank enhances washing performances and productivity.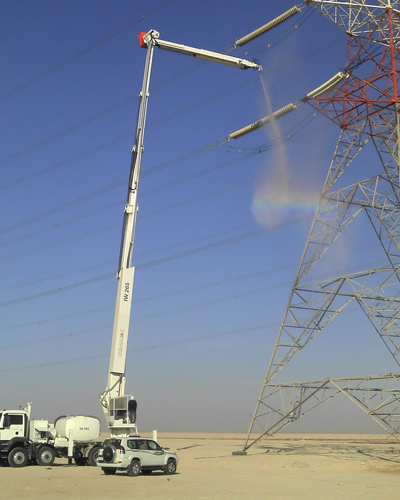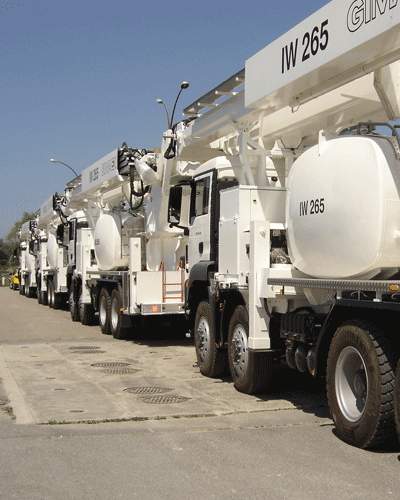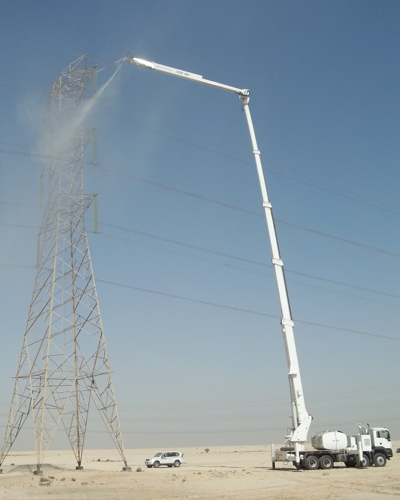 | | |
| --- | --- |
| Type : | IW 265 |
| Minimum G.V.W : | 48 Tons |
| Overall Length : | 11 760 mm |
| Overall Width : | 2 500 mm |
| Overall Heigt : | 4 500 mm |
Features :
Boom geometry 5+3
Non-Demin water washing technology
High pressure piston pump  130 bars
Integrated pressure regulator
Continuous resistivity control
Continuous water level control
Grounding system IEC1048 compliant
2 water guns for washing
2 electrical hose reels 50m
Performances :

Washing height             68,00 m
Washing Outreach         30,00 m
Jet effective reach         4,00 m
Water tank capacity      7 000 l
Outlet max. pressure     70 bars max.
Max. rated voltage         500 kV
Mini. water resistivity     1500 Ω.cm
Max. leakage current     400 µA