30m Live Line Insulated Washer IW 232
High voltage insulator cleaning equipment IW 232 
IEEE-957 + IEC 31472
Rated voltage 600kV (phase-phase) high voltage networks
«IW 2» High Series of Live-Line Washing Equipment are combined with aerial devices and offer enhanced washing capabilities on all types of transmission grids of Extra High Voltage (EHV).
Remote controlled washing robot with 2-axes rotation at the top of the insulated aerial platform combined with unique Telescopic + Articulated booms design provides excellent versatility of washing typical 3 phases lines and all sides of insulator.
Water Resistance and Water Levels are continuously checked by safety devices that automatically stops operation in case of exceeding safety values.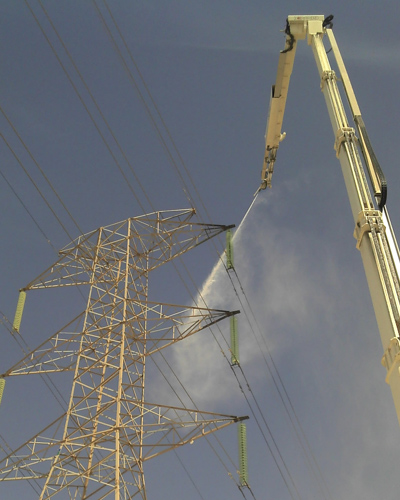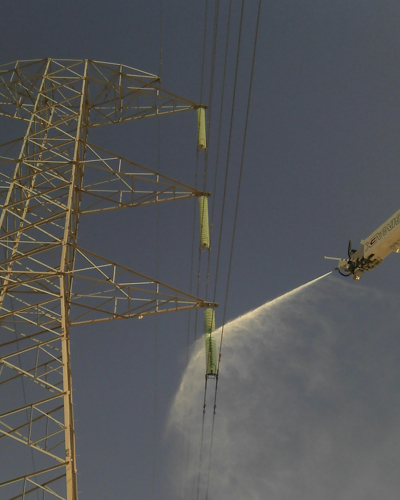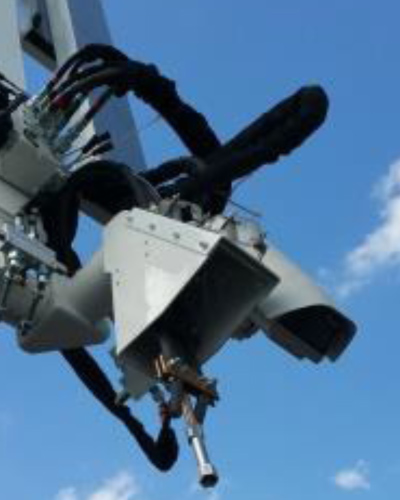 Share !
| | |
| --- | --- |
| Type : | IW 232 |
| Minimum G.V.W : | 26 Tons |
| Overall Length : | 8 250 mm |
| Overall Width : | 2 500 mm |
| Overall Heigt : | 3 780 mm |
Features :
Short wheelbase of 3 300 mm
Wall turning radius of 8 000 mm
Boom geometry 4+2
Non-Demin water washing technology
High pressure piston pump  130 bars
Integrated pressure regulator
Continuous resistivity control
Continuous water level control
Grounding system IEC1048 compliant
2 water guns for washing
2 electrical hose reels 50m
Performances :
Working height              32,00 m
Washing height             30,00 m
Washing Outreach         15,00 m
Jet effective reach         4,00 m
Water tank capacity      5 000 l
Outlet max. pressure     70 bars max.
Max. rated voltage         500 kV
Mini. water resistivity     1500 Ω.cm
Max. leakage current     400 µA