50m Aerial Platform Insulated E51P
Rated voltage 500kV (phase-phase) high voltage networks
Our Hydraulic Insulating Access Platforms takes advantage of unique EGI Foam-Filled Boom Technology Type III, that provides world's best dielectric protection. They are equipped with Last Generation of Fiber Optic Controls and full Computerized System. Complete System is certified for Live Working under toughest environment of High Intensive Electromagnetic Field reacting 3000 A/m. EGI Silicone Shed Technology provides in addition unmatched safety in Rain Weather Conditions.
Our E51P insulating Access Platform is Fully Complying with IEC 61 057 International Standard.
Pour des raisons de confidentialité Vimeo a besoin de votre autorisation pour charger. Pour plus de détails, veuillez consulter nos
Privacy Policy
.
J'accepte
EGI KLUBB Group – E51P from KLUBB Group on Vimeo.
Hydraulic Aerial Platforms typical applications include: ·
repairing electrical wires
replacing insulators
dead end insulator strings retrofit
jumpers connection
connectors or lugs clamping
any kind of mechanical operation with hydraulic tools.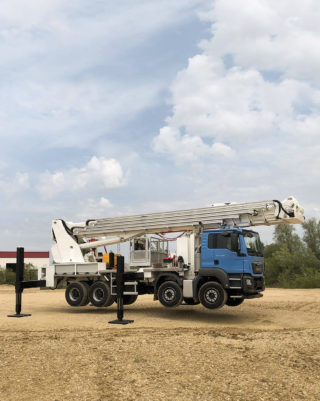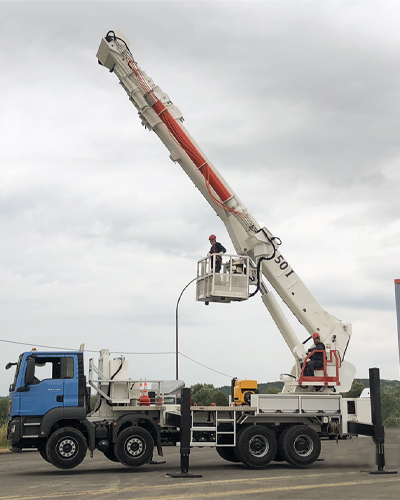 Share !
| | |
| --- | --- |
| Type : | E51P |
| Minimum G.V.W : | 40 Tons |
| Overall Length : | 12 000  mm |
| Overall Width : | 2 500 mm |
| Overall Heigt : | 4 100 mm |
Features :
Boom geometry : 5+1
Basket rotation : 2×50°
Fiber optic command and Can-Bus network
CEM tested @ 3000 A/m
Connecters for hydraulic tools
IEC 1057 Full compliance
Performances :

Working height : 50.00 m
Outreach : 19.50 m
Nominal weight in basket : 500 kg
Max jib lifting capacity : 200 kg
Rotation : 360°
Max. rated voltage (phase-phase) : 500 kV