Discover the fire-fighting lift model Meteor 330 TBI
in action based on the intervention of the Sdis 08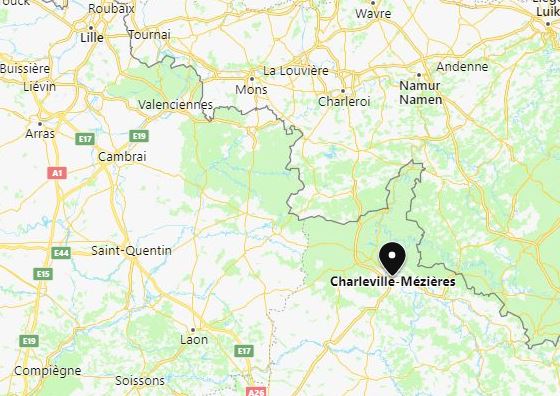 Charleville-Mézières: During the night, at approximately 1am, the alert processing center received an emergency call from a witness. He advised that he has seen smoke escaping from a roof in the Rue chaussée de Sedan. Of course, one fire-fighting vehicle was shortly after on its way to extinguish the fire. When they arrived at first, the apparatus manager quickly recognised that they would need another vehicle-mounted platform as the complete attic of the house was in flames. Meanwhile, the tenants of the ground floor and their pets were evacuated to ensure their safety.
For fighting the flames, three fire-fighting trucks were in charge. Two of them provided lances from the ground, the other lance was placed on the aerial access basket of the third vehicle. However, they also had to watch out that the fire was contained in the upper part of the building. Because already, the flames had done major damages to the house.
The fire-fighting lift model Meteor 330 TBI
Moreover, the fire department Sdis 08 also used one fire-fighting lift model out of our range: The Meteor 330 TBI. After the delivery one year ago, the Sdis 08 use their aerial fire truck intensively. The fire truck shows several advantages, besides the great working height of 33m and the outreach of 23m. The latter is especially useful in case you can't position your vehicle directly next to the intervention as it was here!
Of course, the maximal flow of 4000l/min helped the fire-fighters to nip the flames in the bud! But also, the main hydraulic telescopic arm is made of four sections. Therefore, the fire-fighting aerial platform could be controlled with flexibility to get into every position as fast as possible.
Every second counts while fighting the flames!
Moreover, the fire-fighting vehicle has been designed with a total rotation of 360°. The basket of the platform is mounted on a truck supplying a great rotation of 2 x 45°.
Due to these factors the fire-fighters could react spontaneously and extremely fast during the operation. The flexibility of this fire-fighting aerial platform saves valuable time!
Finally, the fire-fighters found the fire by stripping all the roof space as it was in between the structure of the building and the plasterboard.
All in all: Four people evacuated, three cats, a dog and a dozen rodents will be relocated, 150m² of attic destroyed and three apartments spared by the flames.
Because of the outstanding work of the firemen no one was injured, the only damage is a material on.
We are once again impressed with the daily effort of the Sdis 08, the pictures only give a small idea of what they are doing every day!
However, we also wish the best for the family who was evacuated.