EGI-KLUBB Group: Looking back on a demi-century!
As EGI became a subsidiary of the KLUBB Group one year ago, the corporate group gained about 40 years of experience. Since the late 1950's the aerial platform manufacturer is mainly focused on two technical markets: aerial lifts for firefighting and insulated platforms to work on high-voltage lines. Today our employees are responsible for designing, manufacturing and servicing aerial access work lifts. Moreover, the company provides insulated washing equipment. All of the products are produced in EGI's factory which counts 7 hectars, including an independent Laboratory for electrical tests!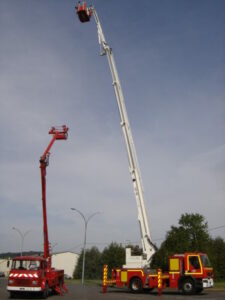 Our fire-fighting aerial platform range
Look at this pictire, next to a fire-fighting lift of EGI which already counts plenty years, the 330TBI demonstrate the development of EGI's products. And honestly, it is nothing to sneeze at!
Since the beginnings we are working to add valuable aerial devices for urban, industrial and multipurpose interventions. All vehicles provide the shortest overall length and most reduced turning radius. The range nowadays includes fire-fighting aerial platforms from 20m to 54m. Our goal was always to improve and facilitate the daily work and tasks of our clients. Also, one thing that never changed was the importance of the safety and security of the user. Therefore, EGI's products covers all classes of EU Standard.
Live-Line Working lifts for work in heights up to 67m
Our range of Live-Line working was also enlarged by many models. For example, we launched last year the chassis- and van-mounted insulated platforms for distribution works insulated up to 46kV. We are continuing to design Live-Line working fitting to our clients need. Therefore, we are in a regular exchange with our distributors as they know their territory and particularly the Live-Line Working lift market in their countries at its best.
About 6000 units were sold by the aerial platform manufacturer in more than 50 countries. We are looking forward to increase that number and to enlarging our range, to reach even bigger heights!
Looking back at the history of EGI and about what we have reached so far, we won't stop at this point.
But to grow even more, we are looking for partners for distributing our products.
So, if you think that we can collaborate, don't hesitate to contact us!