46m Fire Aerial Platform METEOR
460 TBI M / WM
EN ISO 13849-1 + EN 1777:2010 + EN 1846 1-2-3
DIN 15120 + NFS 61550 + NFPA 1901:2009
CITIES AND INDUSTRIAL AREAS OPERATIONS
Thanks to our unique "X+H2" stabilization system, fully compliant with EN 1777/2010, the EGI – KLUBB GROUP hydraulic access platforms for fire firefigting can stabilize on slopes up to 9 degrees, regardless of the vehicle's position (front side, rear side and combine). This allows firefighters to save a considerable amount of time when they get to the scene of the fire. This feature is unique to EGI – KLUBB GROUP.
Straight & Telescopic Articulated-Boom designs offers a 10m + Up and Over capability and reduces the risk of mispositioning when approaching the scene behind the obstacle.
Discover the 54m Fire Truck METEOR 540 TBI and the 19m Fire Aerial Platform M180 TPI / WM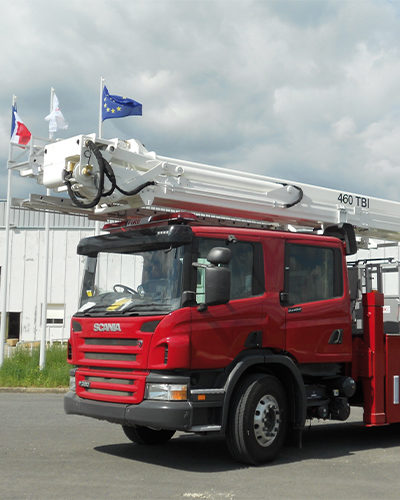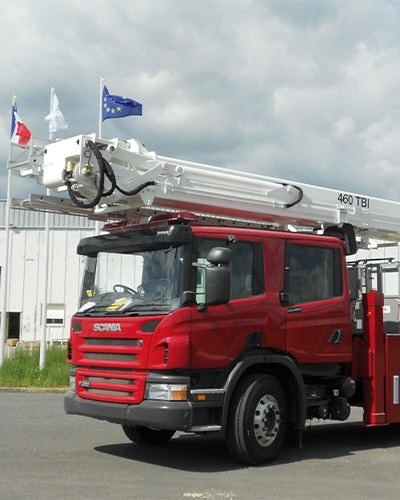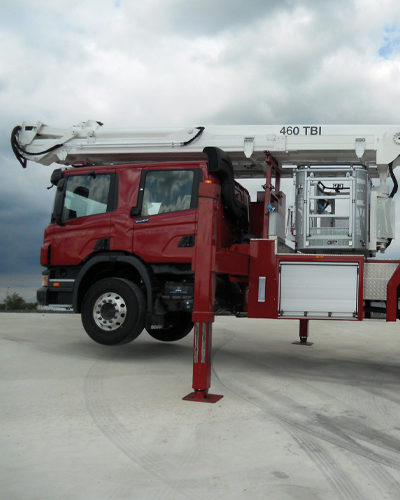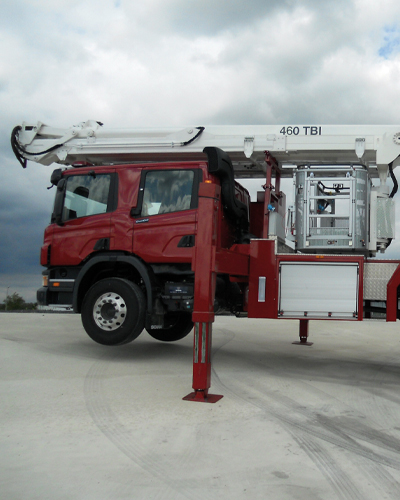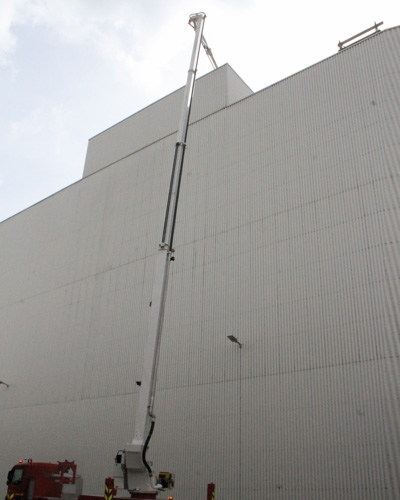 Share !
Performances :
Working Height: 46.00m
Rescue Height: 44.00m
Max. Outreach: 21.00m
Rescue cage load: 500kg
Negative access: -6.5m
Possible types of vehicles :
G.V.W : 26 Tons
Installation on lower tonnages, please contact us
Specifications :
Slope / Tilting operation: 7°
45 km/h wind operation
H Type Outtrigger – track width 6m at full extension
Boom geometry 4+2+1
No tail swing turret
Compliant to European standard EN 1777
Telescopic Waterway
CCS3 Monitoring system
Water curtain for rescue cage
Monitor 4000 L/min max
Full aluminum made bodyworks
Options – Minimum G.V.W 26T :
Strecher holder in rescue cage
Breathing air Line
Thermic and color camera
IR obstacle recognition
Electrical line detection
Flowmeter
Hydraulic tools quick coupling in rescue cage
Options – G.V.W >26T :
Water pump: 6000 L/min
Water / Foam tank: 2000 L
CAFS – Compressed air Foam System
Around the pump foam system
Rescue Ladder
For more platform options, please contact us before ordering
Other request could be done and will be studied by EGI-KLUBB Group Design Office