Discover our aerial fire truck M330TBI in full activity!
During the night at the 13th  of July 2015, two explosions at the refinery Shell à Berre happened. Therefore, the factory of the Company Lyondell Basell caught fire after around three hours at 07:10. After the call for help, the firefighters arrived at 07:24. About 120 firemen taking 50 aerial fire trucks hurried to the disaster. Amongst other fire-fighting crafts, the "Sapeurs-Pompiers de Bouches du Rhônes" were deployed with a M330TBI (BEA 33). This is an aerial work platform for fire-fighting and rescuing. The aerial fire truck is part of our EGI – KLUBB Group range which we provide as a fire truck manufacturer.
Particularly the working height of 33 m and the outreach 23 m of the aerial fire truck was imperative to overcome the fire! As visible on the pictures, the walls of the reactor vessel were demanding a greater reach of the hydraulic platform fire truck.
Moreover, the flexibility of the aerial fire truck was an advantage due to it having a general rotation of 360° and 2 x 45° in addition. Thus, the fire-fighters were able to react fast. They didn't have to arrange the vehicle differently to reach something, just rotate the upper or lower boom!
The market outstanding water pump value of 6000 l/min made a big contribution fighting the flames.
Under those circumstances the industrial fire truck 330 TBI cut the reaction time in half.
With the outstanding work of the fire-fighters coupled with the advantages of the fire apparatus tankers the blaze was put out at 11:40!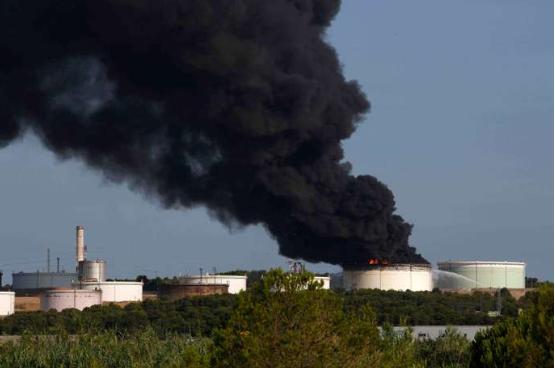 Lyondell Basell is one of the largest plastics, chemicals and refining companies, an absolute specialist at petrochemistry! Hence it was an eligible question if there will be any toxic risks for the people living nearby! Happily, no one was harmed or injured and moreover no caved, toxic chemicals were leaked!
Thanks to the fire department of the « pompiers des bouches du rhône » for this great done job!