Get an impression of an aerial platform fire truck in action!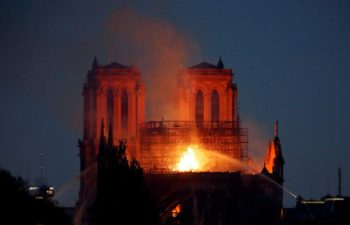 Paris's beloved Notre-Dame Cathedral has been one of the French capital's most famous landmarks, ever since it was built 850 years ago. Notre-Dame has played a role in key moments of history and captured the imagination of people around the world. Over 13 million visitors a year came to marvel at this landmark. Therefore, it was a shock when the main spire and roof of the building collapsed in a huge fire on Monday the 15th of April 2019 at around 18:30. The first aerial platform fire truck arrived just half an hour later.
Later on, the Zonal Operational Center requested the commitment of the SDIS 77,  in addition to those which were already committed by the Paris Fire Brigade.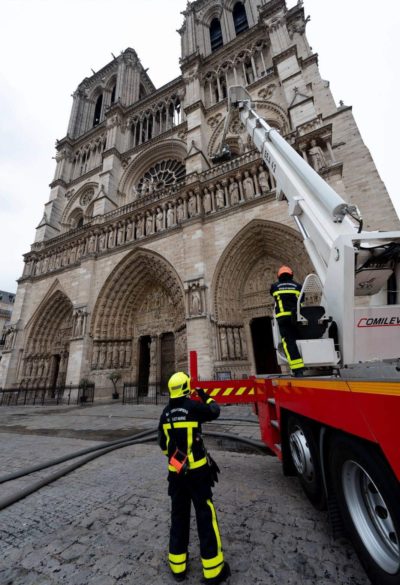 Two groups left the zone, one of them were hurrying directly to the disaster with the aerial platform fire trucks. Meanwhile the other one was driving to the center of "secours de Masséna".
Also, the aerial platform fire truck out of our range of fire truck pumper was playing a leading role.
The Comilev's aerial fire truck, visible on the pictures, was placed at the forecourt of Notre-Dame. Mainly, the firefighting vehicle was used as a dry column. Moreover, the aerial work access platform helped to salvage the artwork stored inside as it has a great working height of 42m. Where another advantage of the firefighting lift should be mentioned: the platform basket capacity of 500 kg.
As KLUBB Group acquired Comilev's intangible assets, all their products were included into our range and even improved! The 42m platform used here is now the 460 TBI model, with an even higher working access of 46m!
Until the next day the fire departments were fighting against the blaze. In the meantime, thousands of people gathered in the streets around the cathedral, mourning the destruction. Some of them whispering prayers, while other were just observing the flames in silence.
The work done by the firefighters in addition with the output power of the aerial platform fire truck was outstanding. Therefore, the Interieur Minister Christophe Castaner expressed his thanks.
EGI – KLUBB Group hopes that the restoration of Notre-Dame de Paris will proceed successfully.