11 new fire aerial platforms for the South Wales
state fire brigades!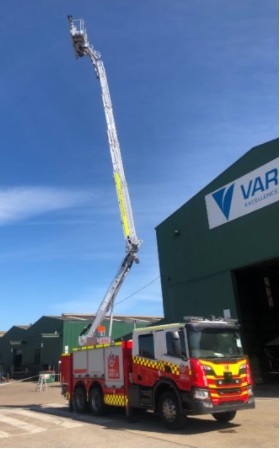 During the last months we delivered 11 brand-new METEOR 240 ATPI in Australia
to the Fire brigade in the state of New South Wales. 
Those fire truck are mounted on a double cab Scania chassis.
This machine allows firefighters in particular to be operational quickly for interventions in urban areas. Indeed the compactness of the aerial platform allows it to work in narrow streets and at a significant working height of more than 20 meters high.
METEOR 240 ATPI
Working height: 24.30m
Rescue Height: 22.30m
Max. Outreach: 11m
Negative access: -5.00m
Rescue cage load: 330kg
The compact dimensions of this multipurpose platform fire truck enable 
high maneuverability  in narrow streets!