Mounted on a Mercedes Zetros: Discover our mobile workshop version and aerial platform on video!
Especially in rough terrain areas our customers and clients need robust vehicles. It is important that no matter how challenging the circumstances are, the user can rely on their vehicle. EGI-KLUBB Group offers various aerial platforms and different mobile workshop versions. Discover the great conversions mounted on a Mercedes Zetros as the result of the partnership with Mercedes-Benz on video!
Pour des raisons de confidentialité Vimeo a besoin de votre autorisation pour charger. Pour plus de détails, veuillez consulter nos
Privacy Policy
.
J'accepte
To provide the best support for any case, we designed an aerial platform with a working height up to 25m. But, we also created a mobile workshop version with plenty of advantages in order to facilitate your daily work. In combination with the features of the Mercedes Zetros, we created the best fitting special-vehicle for difficult circumstances and extreme slopes.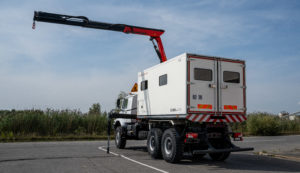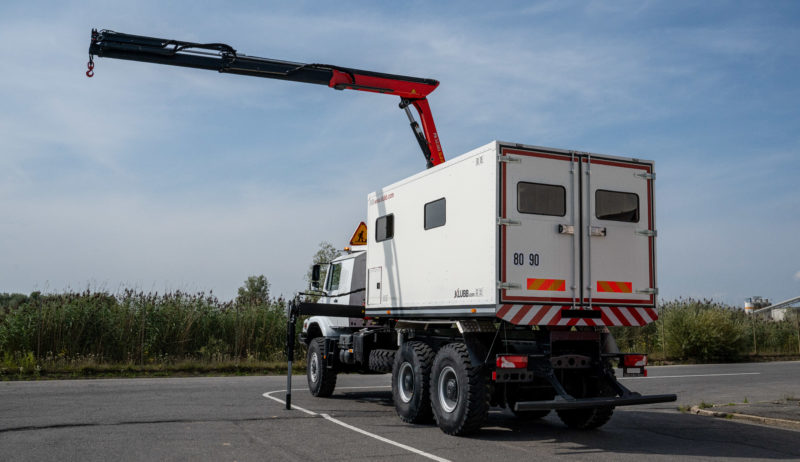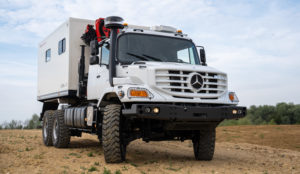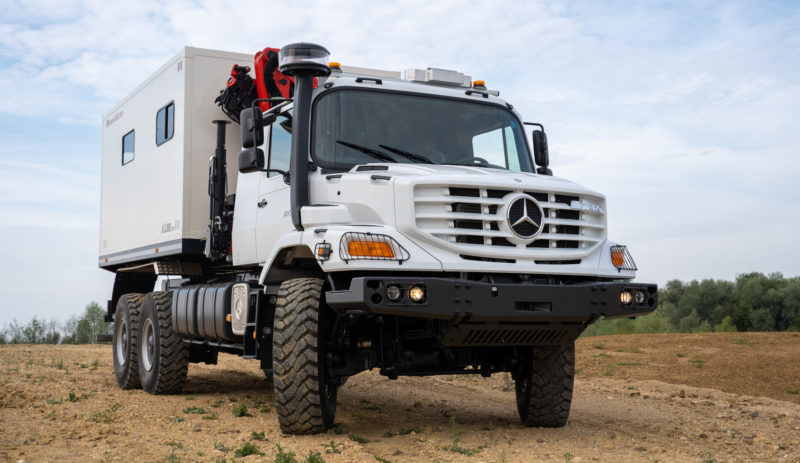 For example, the Mercedes Zetros is equipped with a heavy duty subframe and a low torsion off road body mounting system. Also, the waterproof floorboard for the heavy truck braves all bad conditions.
Our vehicle-mounted conversions perfectly fit with the Zetros truck.
Firstly, we provide a mobile workshop version and a heavy duty 6-8 tons crane with 2 outriggers to ensure that the user can lift all item. The workshop conversion has 270°-winged rear doors with security bars and padlock. Furthermore, the access is facilitated and safe because of an extractible rear ladder with large anti-slip steps. Inside of the vehicle you can stow your equipment in a steel furniture set with lockers to keep everything safe and to effect last minute works at an equipped working bench. Moreover, in the workshop there is a sliding crane installed which extends up to 1.5m but also can carry weights up to 1t! Also, internal and external plugs (220 and 380V) will easily powers all the tools.
The mobile work version mounted on a Mercedes Zetros is great for working under extreme conditions!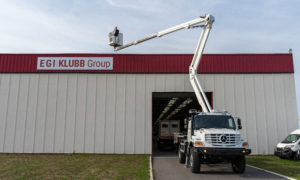 Secondly, we installed an articulated aerial work access platform on the heavy truck. Therewith, the user gets an outstanding flexibility to overcome any obstacles and reach anything without changing the position of the vehicles itself. The articulated arm is equipped with 360° turret on the bottom of it. Moreover, the basket platform can rotate 90° to every site and is equipped with a jib! Not to bear is that the boom lift can reach heights until 25m and has a lateral outreach of 12.90m! Of course, we ensured that all the movements can be controlled proportionally. Mounted on Mercedes Zetros and equipped with 4 outriggers which can be controlled both from the ground and basket, this elevator will reach the trickiest places and face up the most difficult paths.
We caught all these features on video.
So, discover the advantages of our Zetros-mounted vehicle conversion!
Also, don't hesitate to contact us if you need more information about the vehicles!
We will be happy to provide you any as fast as possible!