Insulated Aerial Lift E51P for Live Line Working: Watch this great machine in action!
"Climb with us onto our Platform for Live Line Working and get closer to the high voltage lines in complete safety!"
– EGI-KLUBB Group Costumer
One of our aerial work lifts which is dedicated for Live Line Working, is currently used in Turkey, Ankara.
However, our client gives us a great insight of their daily work. And also we have a stunning view from up to 50 m!
In the video you are able to see our Aerial Platform for Live Line Working E51P. For giving the best support, the telescopic arm can carry 500 kg in a height of up to 50 m!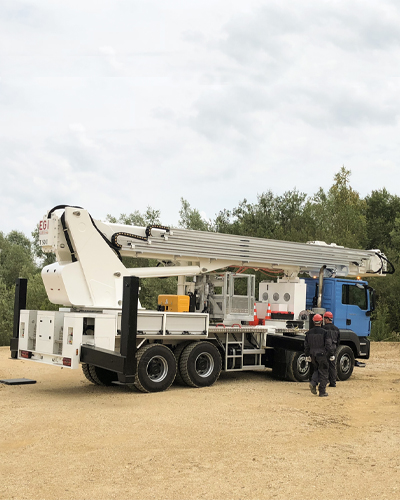 Of course, as the vehicle is designed for acting under voltage. Users can operate on high voltage lines until 500 kV! Henceforth, no break of the power supply is necessary, this wouldn't be possible with supplying such a big city as Ankara. The telescopic arm is insulated with the from EGI developed Foam Filled Boom Technology III.
Therewith, it is also possible to work barehand without a loss of safety.
As certainly safety while working in heights and on power transmission is our priority number one!
Furthermore, the aerial work platform provides a great flexibility. Firstly, because the general rotation of the vehicle counts 360° and a basket rotation of 50° to every side. Secondly, as the basket can be horizontally carried out until 19.50 m. This outreach, especially as the platform capacity is 500 kg, is peerless!
Another important feature of the vehicle is its robustness. More precisely, the Aerial Platform for Live Line Working is built on an 8 x 4 off road type truck which braves every circumstance. Especially, when works in rambling spaces on high transmission lines are demanded, the aerial work platform must be ensured to work nevertheless. As there is more surface to build up strong winds, the truck as well as the telescopic arm must be even stronger!
Here, it also needs to be noticed that our products correlate with the international standards (IEC). Therewith, we can ensure you current safety while working on high transmission lines!
Thanks to our client to share this video of their platform for Live Line Working with us!
However, this is just a small foretaste about the amazing work which can be done with our Platforms for Live Line Working…
If you need any more information, contact our team!
And maybe, you'll be the next one sending us video greetings from 50m height while being in touch with 500 kV!