Discover EGI-KLUBB Group's Special Trucks!
EGI-KLUBB Group's origin traces back to the 1940's. Therewith, we can count on about 80 years of expertise and knowledge. Moreover, our engineers are always on the go to improve our offer and to design vehicles for our ranges: the fire-fighting aerial platforms, insulated washing equpiment and live line working lifts but also our offer of special trucks. Nevertheless, we already produced them since a longer time, they are noewcomer on our website.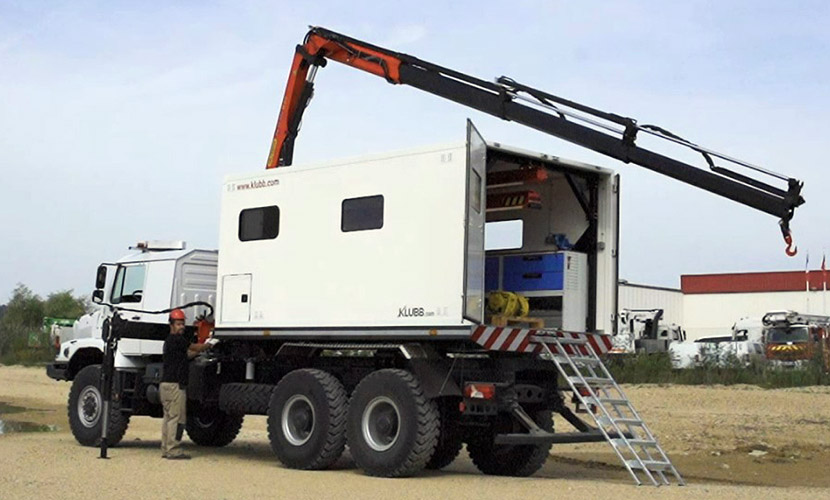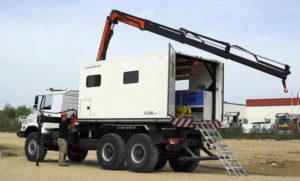 Therefore, we want to give you the chance to discover the range of special trucks!
All of them are designed for specific interventions such as military or medical uses.We developed the tailor-made vehicles based on client's specification. The leveling chassis, ambulances and workshop trucks are made on demand.
You already had the possibility to discover the Mercedes Zetros mounted Workshop version with crane, which is perfectly made for any intervention in tough circumstances and extreme slopes. Moreover, it is a completely equipped workshop, while having a working height of more than 13m and an outreach of nearly 10m. However, if you missed the article of the result of the partnership with Mercedes or need more information, see it here!
So, here we go with the other models of our SPECIAL TRUCKS range!
At first, there is a light van fully equipped as a mobile station for repair and maintenance of any type of vehicles and engine powered machines. This vehicle has an oil station with a capacity of 1 ton of oil. Also, there are four separated oil tanks, in total three for clean oils, one for used oils. Its powerful pumps able to drain and fill truck tanks on site. Furthermore, its generator allows to work with electrical tools and to charge battery and boosters for jumpstarts.
Secondly, we provide another Mercedes truck-mounted model. It is a fully equipped military ambulance built on Unimog chassis. As it is such a robust and easy to handle vehicle, it allows interventions in any area. This transformation includes a shelter with medical furniture and medical equipment such as anatomic stretcher, oxygen supply system, medical fridge, water faucet and many more.
The last vehicle of our SPECIAL TRUCKS range, is a mobile command post. Basically, it is a flexible, movable but also comfortable meeting room. Inside there are six foldable seats and a table with integrated electric and multimedia plugs. Moreover, all of the interior fittings are equipped with thermal and acoustic insulation. Also, we provide within radiocommunication devices predispositions. All these benefits allow the commandment to work as close as possible to the field teams to keep being reactive and well informed.
All these special trucks are made to support your team at its best and to be a great benefit to your fleet!
Of course, if you need any more information, or there are any demands for other platform options, don't hesitate to contact us. Every other request could be done and will be studied by the EGI-KLUBB Group Design office.